Shipping and Delivery
We use UPS to ship to the United States.
Costs vary depending on weight, size, and destination.
Make sure your shipping address is correct before finishing your order.
Errors will cause the package to be shipped to the wrong location and give you an invalid shipping quote.
This is the fee UPS charges. US Postal Service shipments cannot be changed.
Free shipping is applied to the Continental U.S. only with UPS ground. FREE shipping does not apply to any orders from Hawaii, Alaska, Virgin Island and Puerto Rico. Any air shipments are NOT FREE.
Shipping times can be estimated by using the UPS website or the map below.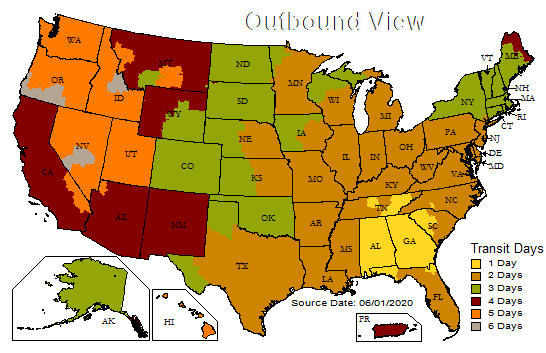 Service Map colors may vary due to differences in hardware and software. This map is a general representation of UPS Ground transit times. For service availability and to calculate the delivery time for a package shipped between a specific origin and destination worldwide,
Calculate Time & Cost.