FAQ
How do I register in order to place the order?
First, you should navigate our website and you should add the products that you like to your cart by clicking on the "Add to Cart" button. If you want to add more than one product, you should type the numbers in the quantity box and then click to "Add to Cart" button or press the Enter button on your keyboard. Once you have finished your shopping, click on the "CheckOut" button on the top of right hand side. When you open the Cart page, Click on the "Checkout" button. When you open the Checkout page, you should log in using your Username and Password. If you have Username and Password, please type it. If you forgot your password, please click on the "Forgot your password?" button. If you do not have a username and password, then you should create a username and password that is your choice, then you will be required to provide your shipping information. Once you completed your registration, then you will be able to continue and place your order.
What is save cart?
If you don't want buy items in your shopping cart right away, you can save them in save cart. Later you can delete it or restore it to the shopping cart. you can make it as many as you want and manage it.
What is your shipping methods
We do our shippings by UPS Services.
How much is shipping?
Shipping cost depends on the weight of the package, delivery time requested by the customer and distance. We cannot guarantee overnight delivery if order is received after 1:30 pm Pacific Time.
Can I get a tracking number?
Yes you can, on all domestic orders we can give tracking numbers by email if it's requested by the customer.
It has been a few days and my order still says Processing, what does this mean?
Sometimes we get backed up with orders and it can take a day or two to process them. We do not charge credit cards until merchandise ships so if we are unable to ship your order for any reason you will not be charged anything.
How long does it take to ship?
Most orders will ship out in 24 hours.
What is your return policy?
If you are unsatisfied with the jewelry items you received or would like to return them for some reason, we accept returns up to
30 days
after the order has been placed.
How can I make the payment?
You can make your payment with credit card only.
How do I change my order?
If your order hasn't been shipped simply email us at: 'cs@wineonion.com' or give us a phone call and we will see what we can do.
What is the estimated arrival time?
You can check your location from the map.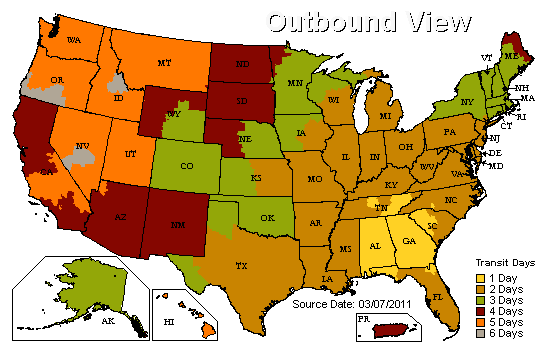 Service Map colors may vary due to differences in hardware and software. This map is a general representation of UPS Ground transit times. For service availability and to calculate the delivery time for a package shipped between a specific origin and destination worldwide,
Calculate Time & Cost.